ALEX SANCHEZ
I KEEP EVERYTHING YOU GIVE ME • August 5th - SEPTEMBER 9TH, 2017
EXHIBITION IMAGES
PRESS RELEASE
Museum as Retail Space (MaRS) is pleased to present I Keep Everything You Give Me by Alex Sanchez.

Exhibition text by Robert Zin Stark:

"…what perhaps escapes the poet, that the love they celebrate is secretly self-love and in this very way their intoxicated expression – to love another man more than oneself – can be explained. Erotic love is still not the eternal; it is the beautiful giddiness of infinity; its highest expression is the rashness of riddles. Out of this comes its attempting an even more dizzy expression – "to love a human being more than God." This rashness pleases the poet beyond measure; it is sweet music in his ears; it inspires him to song." ~ Søren Kierkegaard

I programmed this exhibition because Alex's work is about love. To me at least. Alex told me it wasn't. The subject of his work is frequently his girlfriend, Jacky, but he says he is primarily interested in the dissolution of color. Alex thinks of his practice as poetry, not painting or appropriation. I feel poetry, love, and the subjective paradigm are endangered of becoming extrinsic.

I realized how taboo sentimentality had become in contemporary art when I saw Susan Cianciolo's "Though I have all faith so as to remove mountains, but have not Love, I am nothing" 'Corinthians' at 356 Mission in the beginning of 2016. It was a show with shoe boxes filled with keepsakes and memorabilia - semi-aesthetic time capsules. I loved it. I brought some collectors to see this show, and I got a very strong reaction from them. They did not think it was art.

Conceptual art has become the establishment. It is dogmatically perpetuated in MFA programs where the 'crit' reigns supreme. Duchamp is worshiped and imitated still, even though his Fountain was produced in 1917, turning 100 years old this year. The radical objectivity of his readymade foreshadowed a century of ready-made objects. We have lost ourselves to a modern God who's rapture is the Grid and gospel is Objectivity.

The insidious subjectivity of being unmade is needed to regain the beautiful insanity of our intimacy; poetry, in other words.
SELECTED WORKS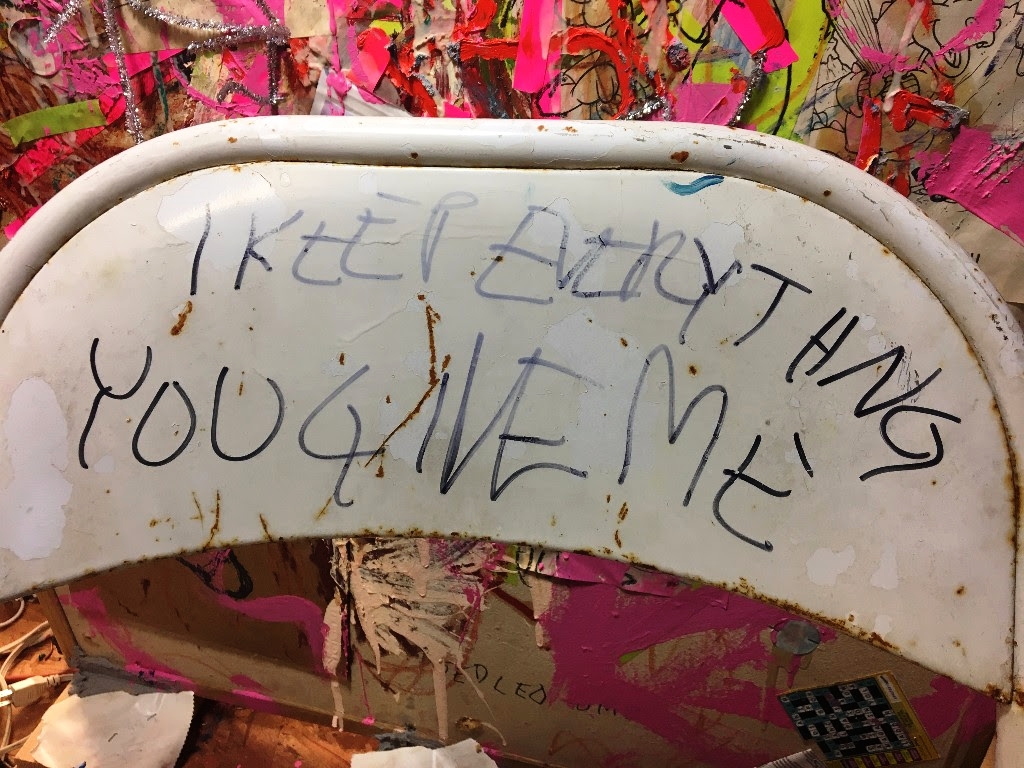 biography
Alex Sanchez (b. 1984) lives and works in Los Angeles. He holds a BFA from Otis College of Art.
As both painter and poet, Sanchez is interested in the dissolution of color, seeking, and or demonstrating, a type of altruism through the fiction and histories of painting. In addition to being both painter and writer, he works in publication, Internet Art, video, and Assemblage.