Linda franke
March 26th – April 23rd, 2016
Installation images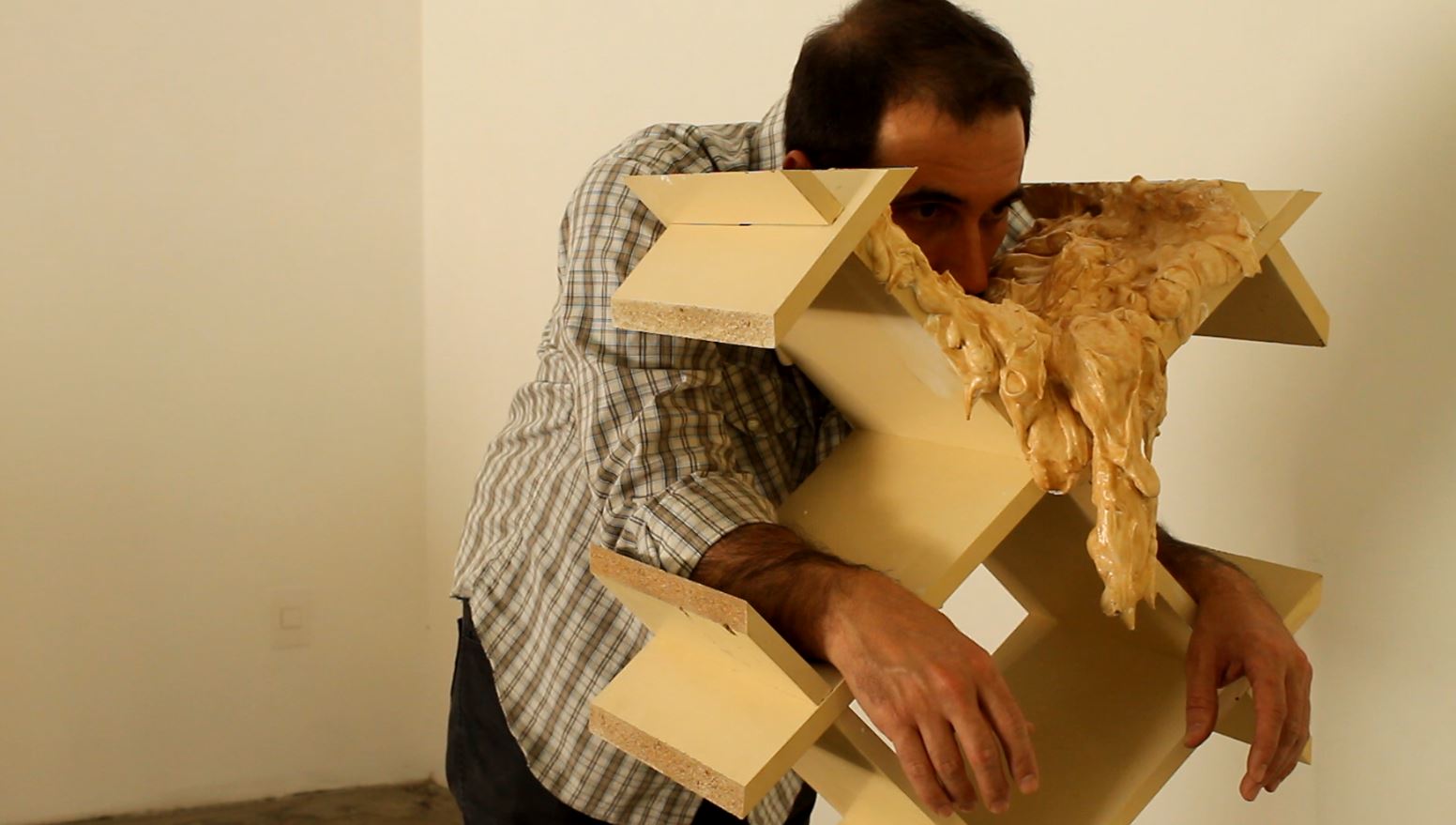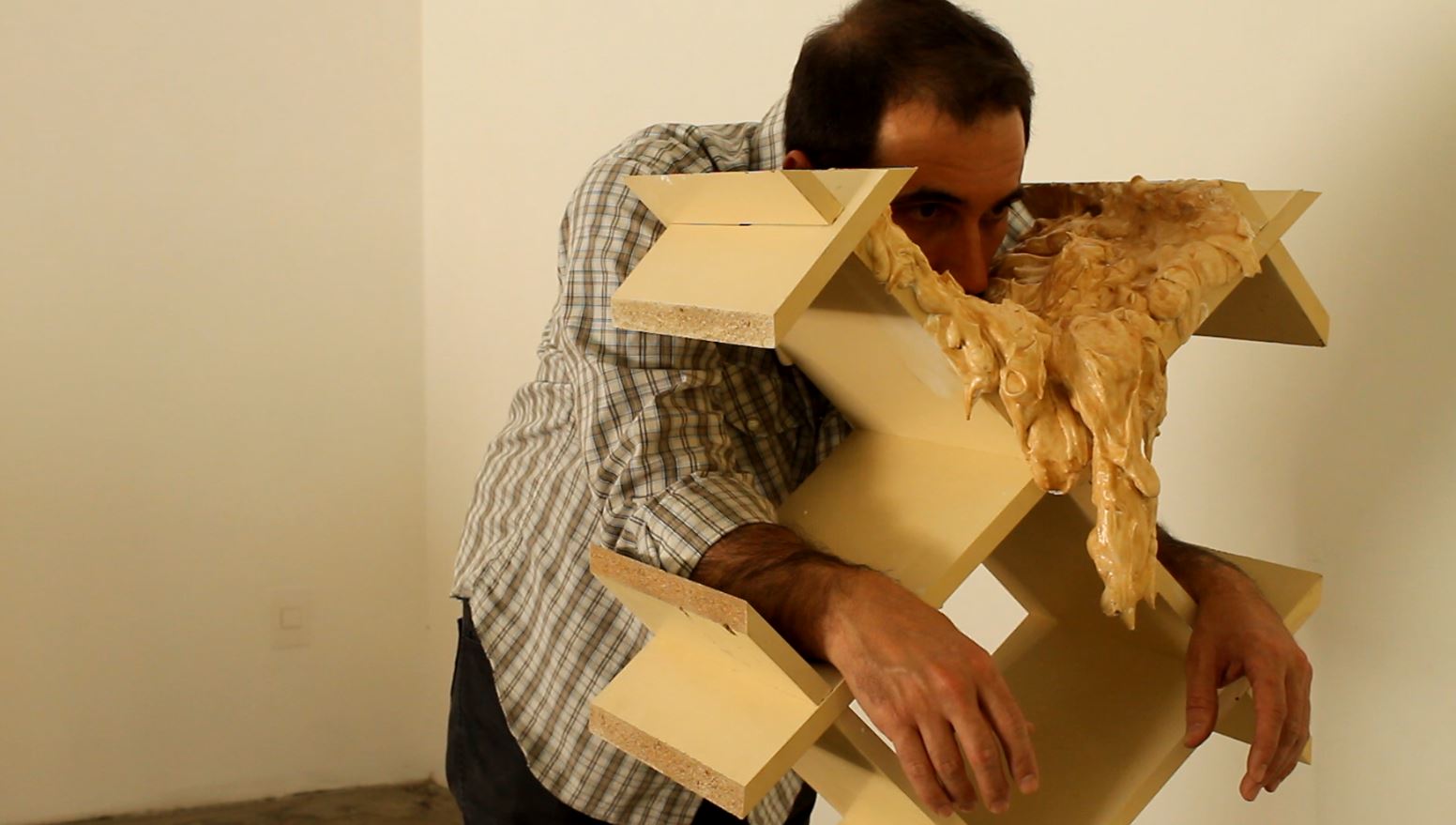 Press Release
ACCESS TO NAMELESS HAZARDS • AN EXHIBITION BY LINDA FRANKE • MARCH 26TH – april 23rd, 2016
 
Museum as Retail Space (MaRS) is pleased to present Access to Nameless Hazards, the first solo exhibition of German artist Linda Franke in the United States.
Linda Franke's work engages with the constants of human life by staging situations in which our daily routines are being transformed into absurd Tableaux Vivants. Found materials, elaborately produced props, 3D animations and soundtracks, create a cinematographic set that serves as the environment for her performers and the resulting video.
Her collaboration of hyper-artificial settings, exaggerated, sound effects, and comedic ironies create scenes that never truly resolve, yet reveal tragic qualities and insights on the limitations of human faculties. By using props and actors in unusual ways, Franke changes the narrative of objects and considers degrees of human limitation. On an interpersonal level, she recognizes linguistic restraints – how meaning is, more often than not, lost in translation. Facets of relationships are confronted by Franke's use of everyday conversation, which presents the aforementioned limits of verbal communication as well as reflects on the properties that are supposed to help us develop our sense of identity.
Another multitude of her work questions the effects of daily exposure to advertisement and pop culture language and the means by which we collectively attribute value. The thematic depths of human nature and societal function are used by the artist as a channel to alter and defy the conventional restraint to preserve the vitality of freedom.
Selected works
BIOGRAPHY
LINDA FRANKE (b.1980, Dresden) is a graduate of Universität der Künste Berlin, Chelsea School of Art and Design London, and Bauhaus Universität Weimar. Franke lives and works in Cologne.
Franke is an interdisciplinary artist with a focus on video, installation, performance art, and sound. In her work, Franke creates bizarre situations in which performers reenact everyday routines and dialogs within hyper artificial spaces. These environments, which serve as stages for her scenes, are either created virtually with 3D programs or as sculptural installations with modified interior objects and costumes.
Her work has been shown at Georg Kolbe Museum, Schaulager Barbara Thumm, Galerie Eva Bracke, and Westgermany in Berlin; W139, Amsterdam; Simultanhalle Cologne; Art Cologne; Film Festival, Sao Paulo; Galapagos Art Space, New York; Moscow International Film Festival; CCA, Glasgow; Jiksiten Gallery, Nogoya, Japan; Myymäla, Helsinki; Soma Mexico City & Museo de Arte Contemporaneo de Monterrey, Mexico.